We were all supposed to become permanent online consumers after the Covid-19 outbreak, never going into a physical store again. Instead, it appears that customers have grown tired of online shopping while sitting on the couch and have resorted to traditional shopping methods.

"As the pandemic has faded, you're seeing consumers return to their pre-pandemic activities," said Brian Nagel, an analyst at Oppenheimer & Co. who follows the retail sector. "Consumers recognise the advantages of buying at stores."
Several factors are converging to dampen online sales growth, he said.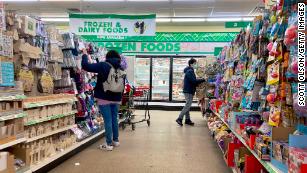 Inflation is pressuring consumers' wallets. This has led some shoppers to forgo buying big-ticket discretionary items like electronics and furniture — products often purchased online — or balk at delivery fees.
Other consumers have proven eager to get out and socialize after being cooped up at home during the pandemic.

"Going shopping is a social activity," Nagel explained.
The evidence of a shift in consumer tastes may be found all over.
According to payment data issued by Mastercard on Tuesday, online retail sales grew 2.2 percent in May compared to the same month a year ago. In-store sales increased at a significantly greater rate of 13.4%.
According to S&P Global, e-commerce stocks have been the worst-performing retail sector on the S&P 500 thus far in 2022, down 28 percent as of Monday.
As it raced to fulfil pandemic demand, Amazon (AMZN) said it built too much warehouse capacity and was overstaffed in some situations. According to reports, the corporation is now subletting certain warehouse space to minimise surplus capacity.

Companies like Stitch Fix (SFIX) are having a hard time. Due to decreasing e-commerce growth, the online apparel styling business will lay off 15% of its paid employees, or roughly 330 people. The layoffs come months after Stitch Fix lowered its full-year revenue prediction and stated its active client count fell short of forecasts.
The online used automobile reseller Carvana (CVNA) will lay off roughly 2,500 people, or about 12% of its staff. Several firms in cities have gone bankrupt after promising to replace corner stores by delivering food and supplies in under 15 minutes.
Experts expect that more layoffs are on the way.

"A lot of these companies staffed up in anticipation of forecasted growth," said Berna Barshay, an analyst at Empire Financial Research. "Now they will fall short of those forecasts. The obvious answer to missed growth targets is to scale down, pare back and reduce costs."